Ataus Samad Trust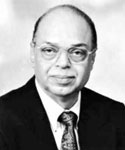 Five students are awarded Ataus Samad Memorial Scholarship on the basis of their outstanding academic results in Master's examination and economic condition of their families.
Ataus Samad was the advisory editor of Amar Desh, chief executive officer of NTV and a part-time teacher of the Department of Mass Communication and Journalism. He was awarded Ekushey Padak in 1992 by the Government of Bangladesh.
The late journalist A B M Musa donated money to create Ataus Samad Memorial Trust Fund.