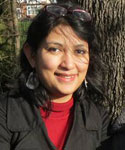 Dr. Kajalie Shehreen Islam
Designation: Associate Professor
E-mail: kajalie@gmail.com
Phone: +880 255045166
Address:

8th Floor, Social Science Building, University of Dhaka.
Degree
PhD in Media Studies (SOAS), MA in Critical Media and Cultural Studies (SOAS), MSS and BSS in Mass Communication and Journalism (Dhaka)
Major Works
Islam, K.S., 2013. Bangladesh: Gender Inequality Results from Policy Inequity. In Carolyn Byerly (ed) The Palgrave Handbook of Women and Journalism. New York: Palgrave Macmillan.
Islam, K. 2012 Aug 30. Breaking Down the Birangona: Examining the (Divided) Media Discourse on the War Heroines of Bangladesh`s Independence Movement. International Journal of Communication [Online] 6:0. Available: http://ijoc.org/ojs/index.php/ijoc/article/view/874/787
Islam, K.S. The Myth of the Mad 'Other' in Hindi Cinema, 2012. Dhaka University Studies, 67(2), pp. 221-232.
Islam, K.S. Racism, Sexism and the Illusion of Empowerment in Fairness Cream Advertising on Bangladeshi Television, 2012. Social Science Review, Dhaka University Studies, Part D, 30(1), pp. 59-66.
Area of interest
Media and conflict; religion and media; gender and communication