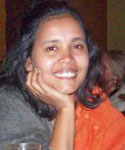 Afroza Bulbul
Designation: Associate Professor
E-mail: bulbulafroza86@gmail.com
Phone: +880-2-01712031861

Degree
Master of Arts in Development Studies, Women, Gender and Development (WGD), International Institute of Social Studies (ISS), The Netherlands Master of Philosophy, University of Dhaka, Bangladesh; Master of Arts in Mass Communication and Journalism, University of Dhaka, Bangladesh
Major Works
Bulbul, A. (2015) History narrated in movies: Analysis of documentary 1971. Journal of Bangladesh Film Archive, Vol. 8, Issue 9, P. 82- 90.
Bulbul, A. (2014) Gendered analysis of the first Liberation War based movie of Bangladesh. Dhaka University Journal, Issue 91-93, P. 183 – 200.
Bulbul, A. (2011) Behind the story of Happy Family: Analysis of Two Televised Advertisements, The Dhaka University Studies, Journal of the Faculty of Arts, Vol. 68 No.2 P. 27-43.
Area of interest
Media, Gender, Conflict.